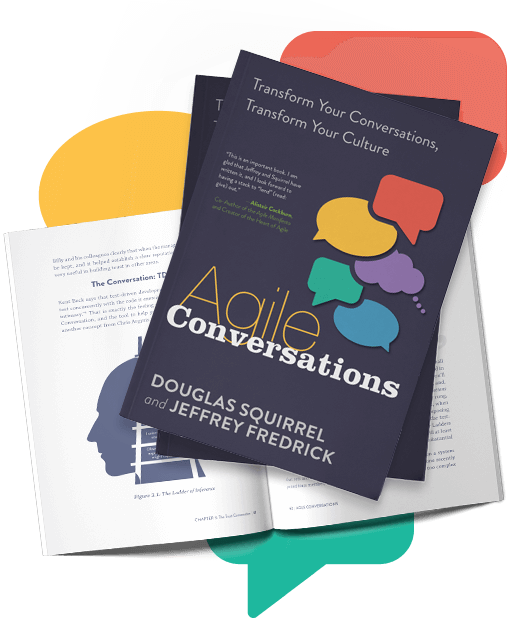 Agile Conversations Book
By Douglas Squirrel and Jeffrey Fredrick
Transform Your Conversations, Transform Your Culture. Available now from IT Revolution Press.
In our book Agile Conversations, we argue that the main reason organizations aren't effective is that they forget to share valid information, have difficult conversations, and build relationships. We show how to use techniques from Action Science to have the five key conversations of highly productive teams.
Available in paperback, ebook, and audio.
Receive a free instructional video
The Conversational Transformation newsletter is packed with useful resources, and if you sign up today we'll send you our new video on 'Coherence Busting', an excellent technique to help you ask better questions and reduce your frustration!
A 2 minute introduction to Agile Conversations
Recognize
Many teams struggle to realize the gains promised by Agile and DevOps but fail to understand why. In Agile Conversations, Squirrel and Jeffrey show you how and why communication problems lie at the core of many problems with team productivity.
Learn
Drawing on years of study and practical experience, Jeffrey and Squirrel describe the theory of "Action Science" in simple, clear terms, unlocking the power of conversations to transform your team. As a result, you'll understand the importance of communication in all teams, and acquire tools for solving the common delivery, prioritisation, and process problems that too many software teams face.
Practice
"If you don't do it, you don't know it!" The Agile Conversations book provides you with a host of practical techniques together with practise exercises using realistic scenarios and conversations.. After just a few pages and a few minutes of practise, you'll already have tools you can use immediately with your colleagues to cement your new learning and improve your teams' performance.
Introducing Conversational Transformation at Devops Enterprise Summit Las Vegas 2019
Praise for Agile Conversations
Over many years, I saw Squirrel and Jeffrey upgrade their company from a culture where some people wouldn't talk to each other, to a model of open communication. Now they've written this book which describes part of that journey. Buy a copy to learn about their approach and encourage them to write up the rest.
This book provides an engineer's approach to monitoring, troubleshooting and debugging conversations. Squirrel and Jeffrey always come across as incredibly mindful listeners and thoughtful discussion partners, and now I know why. Heuristics such as The Question Fraction are amazing - at the same time simple and memorable and incredibly insightful. Read this book to turn your communication skills into superpowers.
In Agile Conversations, Jeffrey and Squirrel pinpoint one of the key tenets of the Agile mindset, which is that constructive, structured and in-depth communication is the key to creating a productive, happy work environment. Not only do they help expose this truth, they also hand you a suite of tools and processes to tangibly improve the conversations you have. Vital reading for anyone in a leadership role, or interested in improving their work culture in general.
I've spent much of my career trying to establish a system for improving collaboration within and across software teams and yet always achieved mixed results. Agile Conversations is the book I wish I had read many years ago! Jeffrey and Squirrel have brought together their many years of experience to create this accessible and practical guide. It's a must read for executives, technical managers and technical staff who want their teams to be more productive, and better at responding to change.
I think of this highly practical and immediately applicable book as the lost instruction manual to the most powerful and effective Agile tool we don't even realize we have: Conversations. If you want to be successful with Agile, RTFM: Read This Fabulous Manual.
Agile Conversations provides much needed guidance on how to have the key discussions that form the foundation for strong and resilient working relationships, as well as a toolbox full of techniques for troubleshooting when conversations go awry.Full of practical, real-world examples, this book is a must read for anyone who has ever been frustrated or puzzled by interactions at work.
The number of conversations at a party doesn't make it a better party; the quality of the conversations does. Many books have been written about improving process and product in companies. I'm so glad this book finally addresses the people aspect:Learn to ask the hard questions, leave your bias at the door, and improve your own communication with this practical guide. If it's hard, do it more often!
If you're looking for a practical framework and techniques that will help fix broken team communication and dysfunctional culture, then you should read Agile Conversations. Going beyond a simple diagnosis this handbook walks you through the Five Conversations you need to embrace in order to transform a broken culture into one that's healthy and high-performing.
Squirrel and Jeffrey's keen writing and battle-tested techniques make this book a must-read for modern engineering leaders looking to thrive amid the explosion of complexity that we all face.
This is a very wise and yet readable book. The authors have hit the nail on the head by focusing on better conversations as the way to translate theory into organizational improvement. Their conversational examples really bring their prescriptions to life. They are clearly practitioners, but with a thorough grounding in theory as well.
It's one of the industry's dirty little secrets that most of our 'technology' problems are actually people problems. In Agile Conversations, Jeffrey and Squirrel assert that solving these problems is made possible by having better conversations, presenting their advice in a manner which fellow technologists will find reassuringly structured and categorized.
The biggest challenges to effectively scaling startups is poor alignment and communication. Jeffrey and Squirrel have written a hands-on and practical manual for addressing issues of trust, fear, and commitment to tackle these problems head on– I cannot recommend this book enough – read it and get your team on track today.
It takes conviction and skill to change company culture. Agile Conversations provides the road map to summon your courage and avoid the hazards on your path to success! A masterpiece for any CEO wanting to build a collaborative, cooperative organization!
Organizations want us to be proficient in teamwork and communication, but we are often expected to develop these complex skills on our own, through trial and error, with all the potential minefields. This book is an extremely helpful and practical guide on how to read between your own lines, and make it safe for others to reveal the fears between theirs.
While coaching high-performance teams to become more effective, I often focus on alignment of purpose. Squirrel and Frederick's book gives me names for the tools that I knew and introduces some that I didn't. It also offers me a quantitative way to measure and improve my own effectiveness.
Conversation is a skill that we learn before we're consciously aware of what learning is. As a result, we may assume that we're competent at communicating based on successful outcomes. Squirrel and Fredrick's book outlines actionable ways that we can measure our competence and improve our skill. This is a must-read for any manager, and beneficial for everyone working in a software environment.
For people from the technical walk of life, soft skills can sometimes be frustratingly ephemeral. The practical exercises in this book give a solid base to explore the development of empathy and understanding as a concrete work and life skill.
I have come to the determination that the first and foremost rule in successfully transforming a group of people of any ilk—corporation or social group—is by helping the individuals each see and understand the change as it pertains to them and help them align with the reasons for the change. Both of these aspects are more easily said than done. Agile Conversations is an indispensable tool to help parties make and accept change. Think of it as your new change management textbook for change big (Kotter sized) or small (a single process within a value stream).
Agile Conversations is a must-read for anyone willing to bring [their] organization to a higher level. Improved conversations allow for curiosity and transparency, which enables collaboration and learning, which in turn brings the right culture for high performance. Jeffrey and Squirrel take you on this fantastic journey of improving the conversations you have on a daily basis, both inside and outside the organization.
This book provides practical patterns on how to take on difficult conversations in a very deliberate way, making it just as actionable as an engineering guide. It contains plenty of recognizable stories and valuable references. It is one big invitation to start practicing and get better at working with the least predictable but most powerful element of your organization: your people.
This book's techniques will make you better at conversations, both in and out of the workplace
Jeffrey and Squirrel have developed a framework that enables me to upgrade communication in my teams. Their book, while acknowledging how demanding it can be to take on the task of improving culture within your company, gives clear and empathetic guidelines for making real progress. An engineer's guide to hacking conversations! When Agile seems like just another process to follow, read this book.